Customer Reviews
12/13/2019
Kevin L.
United States
Love These watches!!
I have purchased 2 LIV watches to date. GX-1 and the P51 Titanium. Both are awesome. I get a lot of positive comments whenever I wear either one. Great job LIV!
12/11/2019
Jonathan M.
United States
Receiving tons of attention and complements!
In just the first week of wearing my new P-51, I have had a dozen complements and questions about it. I sold my Submariner and bought this with a fraction of the profits. This is what I love about my P-51... Very classy and high-end quality. All pictures of it that I saw just don't do it justice, until it arrives and you see it for the first time. Very rugged looking and yet very light on the wrist. The Titanium case is sharp and the watch face is functional and not over crowded. The crown is solid and the buttons function with precision. I really love the thick leather band. It complements the watch perfectly.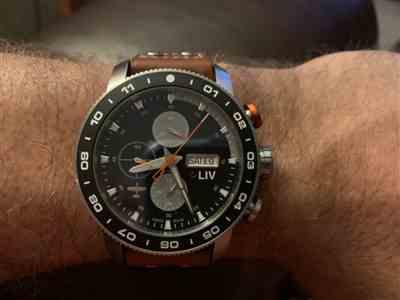 12/11/2019
marcus W.
United Kingdom
So so good
Wow.. seriously cool brand and product. Feels like I've been dealing with a friend when buying. Prompt answers to questions, such quick dispatching, beautiful packaging, and the timepiece itself is frozen on the cool scale and oozes quality. Blackout ltd edition on yellow silicone... Made to feel special buying it. Great experience, don't hesitate, bite the bullet. you will NOT be disappointed
02/26/2019
Matthew C.
United States
Comfort
I bought my watch with the silicone band which was comfortable but I decided to order a canvas band which is even more comfortable and it's so stylish . I love it thanks !!
02/22/2019
Timo L.
Finland
Leather Strap
23mm strap was too big for my Gx1, but i can use it some other watches, it is very cool strap.