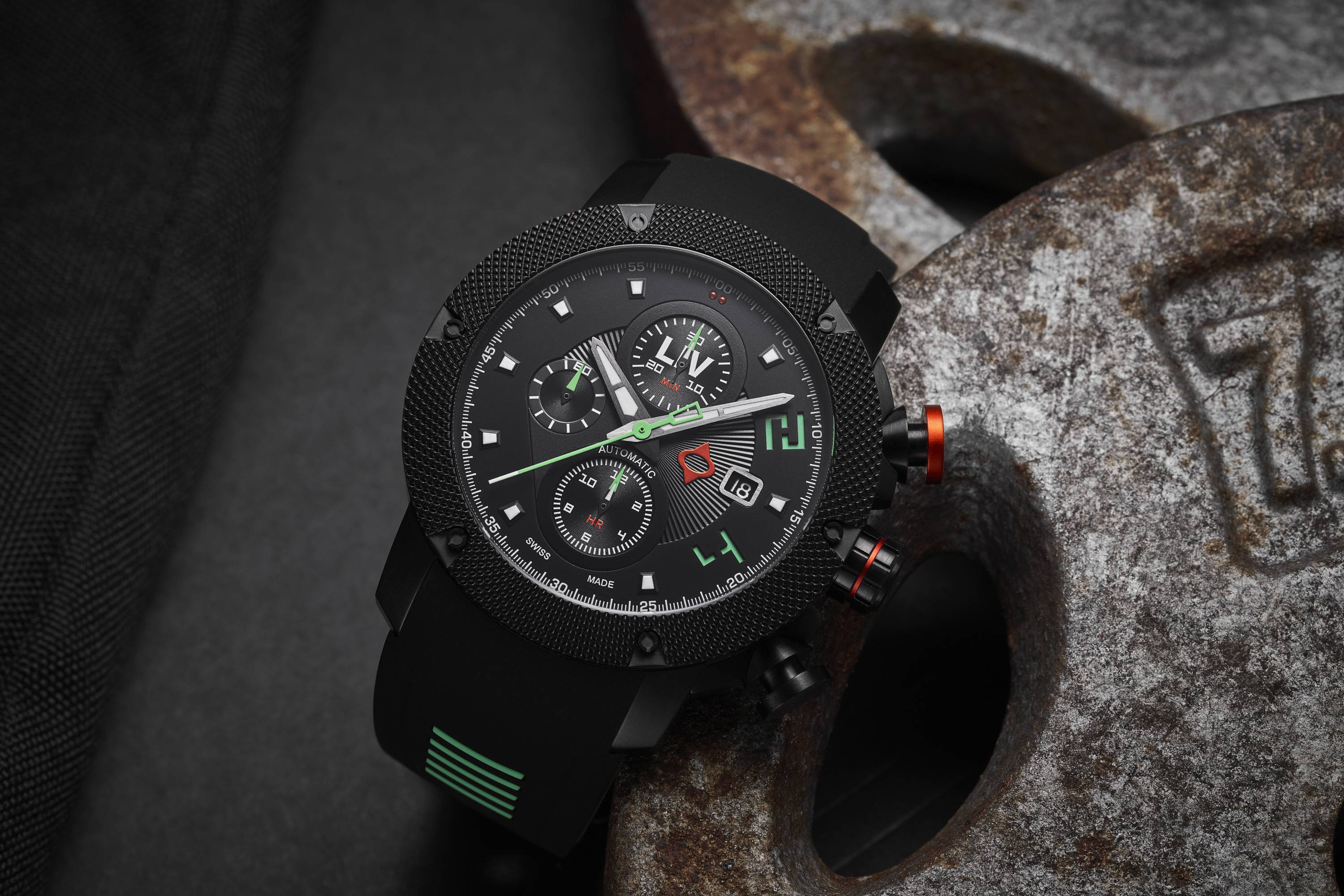 ---
Check out what people have been saying about us recently.
We at LIV Watches had a great month in July, welcoming on board many new fans and welcoming back many existing fans. Here is a compilation of some rave reviews for our watches and other news we'd like to share with you!
#1 • Stellar review from a well-respected website!
Patrick Kansa, a prolific reviewer for theWrist Watch Review website, gave us a stellar write-up in a July 22nd review titledGetting colorful with the Liv Rebel AR. Here are some excerpts from his review of our Rebel AR model:
"To my eyes, the LIV watches are very recognizable, particularly their Rebel lineup. I first went hands-on with one here, so that may contribute to my recognition of it. With their latest version – the LIV Rebel AR – they've made some adjustments and brought things to a more affordable level… While the LIV Rebel AR is indeed slimmer – by comparison – to what preceded it, it is by no means a small watch. 13.3mm is what we more normally associate with a diver, and at 48.5mm on the case 'diameter' measurement, you've got a big watch. It helps that it's primarily a lugless case, so the straps can drop off at the edges of your wrist. For me, however, that size and weight was definitely noticeable while I had the watch on."
The review continues..."One thing a larger watch allows, however, is detail in a dial. Not that small watches can't have detail, but it can get lost. Here, you've got the sublimely bold dial that many LIV watches have, here embellished with racing stripes (these are Le Mans) to further reinforce the racing theme they're going for with the watch. Personally, I've been a fan of racing stripes in things…Speaking of color…The LIV Rebel AR is available for $480 in one of five colors – black (Gulf Racing), white (Le Mans), green (Monza), blue (Sebring), or brown (Valencia). For each of the five colors, only 770 will be created, so if you think you're interested, you'll want to check them out sooner rather than later…"
For the full article, including a run-down by LIV co-founder and resident guru, Chaz, on the key changes made for this latest version of the Rebel AR, you can read more here.
#2 • A podcast of our start-up story!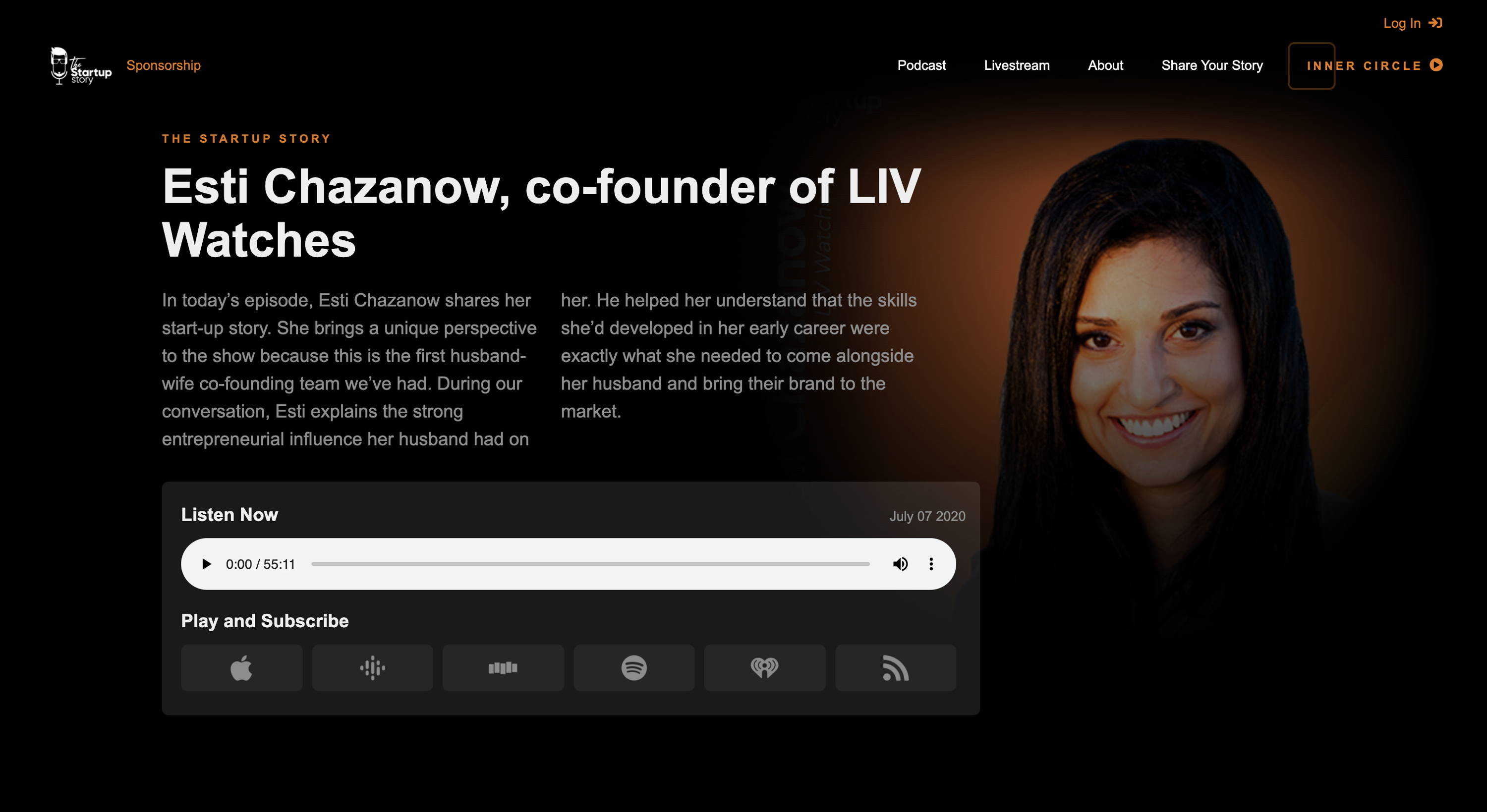 ---
I was excited to be able to tell my story on the exciting blog,The Startup Story, in a podcast that aired on July 7th. In the podcast, I went into detail about what it took to bring LIV Watches to life, which included discussing the tremendous influence my husband and LIV co-founder, Chaz, has had on me personally.
Here are some excerpts from the interview:
"My husband was always obsessed with watches, since he was a child and he eventually turned his obsession into a passion and then into work. He worked for other brands, where he started, literally, in a packing room…When e-commerce came along he set up his own website to trade watches online, high-end watches. He was one of the very first people to do it in the early 2000s. He was very successful in that. After we had married, there was a huge shift after the recession [of 2008-09], I mean, things had really changed and there was also a huge shift in advertising, how the customer behaves. I would say that the moment we got married I knew that this man had a dream of starting his own watch brand. I don't remember the specific conversation, but he had this dream."
When asked by the host what were the greatest challenges LIV had faced while growing the business from its heady Kickstarter campaigns, I responded with,"I think just building the team, finding the right people. Right now we have an incredible team…the team is everything. I cannot tell you, every day I wake up and say, 'Thank god I have an incredible team.' And we don't have a huge team. We have a very lean team."
When asked what I want our brand to become, I said this: "I want it to be on the same track, but just so many more people, so many more fans, so many more ambassadors, so many more advocates…But I want it to be the same, authentic, passionate…I want it to be the same brand. I would like to expand into additional offerings, that's definitely on the agenda…But I would like the watches to be the main thing. I think that always needs to be the heart and soul of it."
It's worth noting that we're the first husband-and-wife start-up success story to be featured on this amazing blog! Listen to the entire interviewhere.
#3 • A fan recommends EVERYTHING about us!

What do I recommend about LIV watches? EVERYTHING. Their incredible customer service, the gorgeous, sturdy, functional and just all around amazing watches, their awesome emails, their personal touch, their whole team and company!!!
- Levi W.
We can never, ever resist fans that send us amazingly positive feedback about watches they've bought from us. Like this rave review by Levi W, a fan who wrote this on our Facebook profile this month:
"What do I recommend about Liv watches? EVERYTHING. Their incredible customer service, the gorgeous, sturdy, functional and just all around amazing watches, their awesome emails, their personal touch, their whole team and company!!! These watches are literally stunning and I'm just so impressed with LIV watches all around. If you're hesitating to go ahead and get that watch - DO IT! The price is insane for the quality, in a good way!"
---
#4 • Another very happy fan on Facebook!

Gil G. from the Philippines had this to write about his newly-acquired P-51 Pilot's watch:
"I received MY P51-Titanium Pilot watch. Awesome timepiece. Amazingly good quality of watch. Highly recommended for the good price. Dare to LIV. Thanks, LIV."
Pleasure, Gil! We especially liked the photos that he sent us, showing off his P-51 Titanium Chrono Blue / Gray with Pilot's Saddle-Brown strap: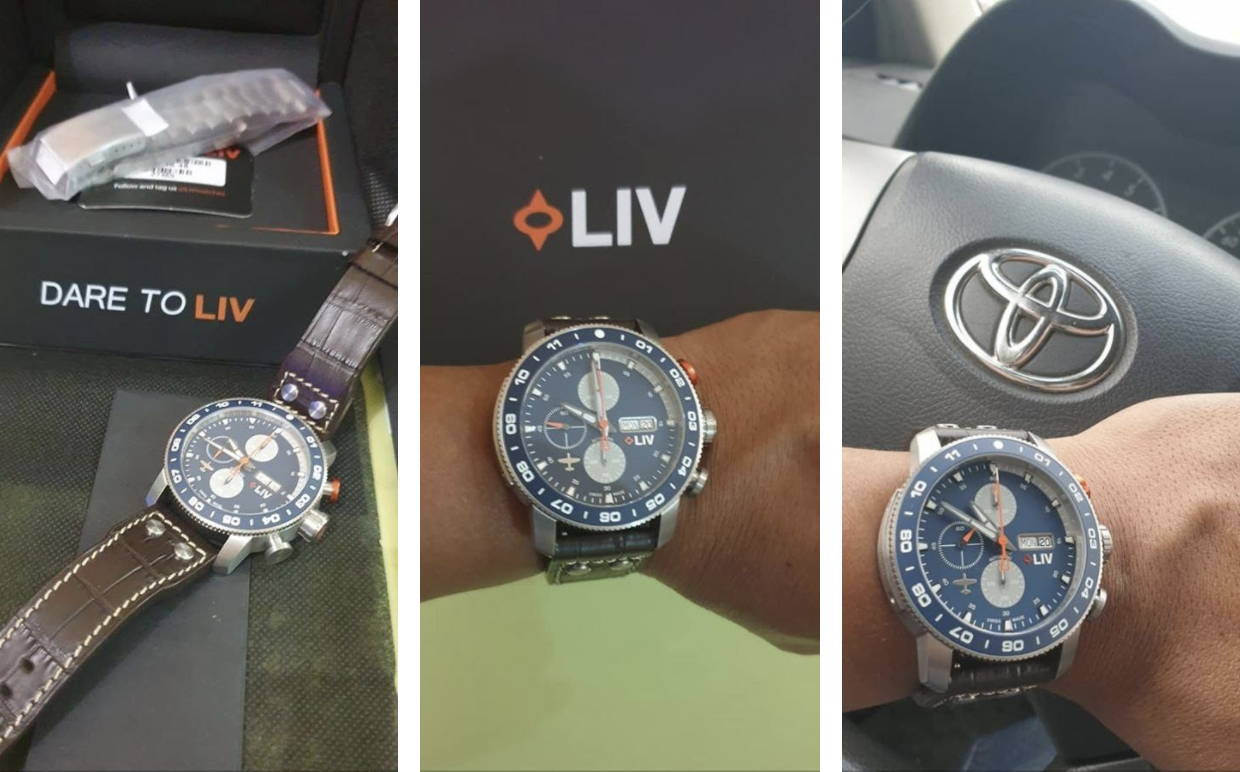 ---
---
---
About the Author
Esti Chazanow, Co-Founder at LIV Watches
Esti's passion for men's watches led her to co-found LIV Watches—a microbrand dedicated to connecting watch collectors with high quality, limited edition, Swiss Made timepieces at prices they can afford—and the rest is horological history.