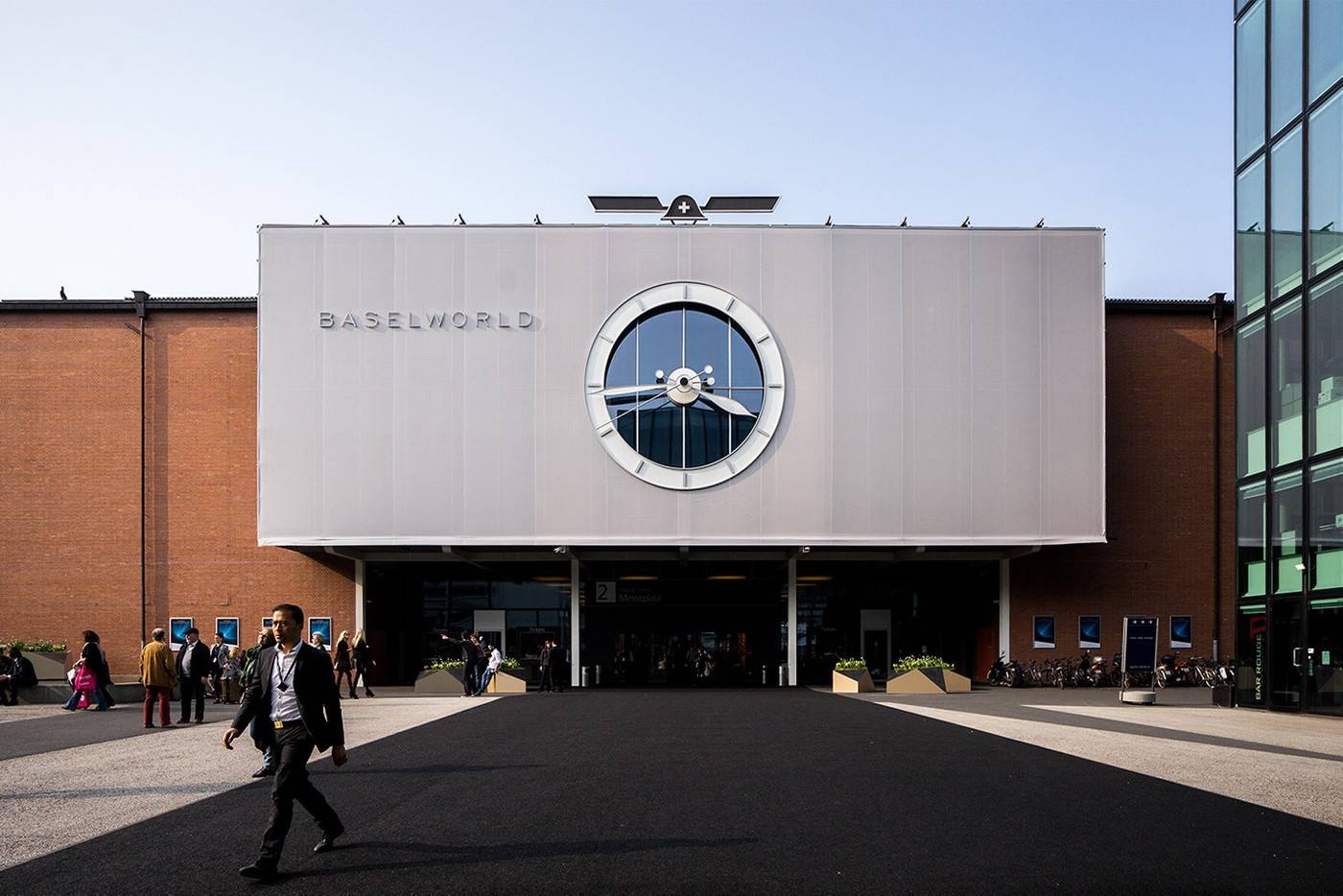 Coronavirus's latest victim--Baselworld
Listen to Episode 4 of our podcast, Wristful Thinking, now:
Chaz: Welcome to Wristful Thinking, LIV Watches' podcast all about things LIV Watches--fans, collectors, and watch freaks. My name is Chaz. I'm the co-founder of LIV Watches and a bona fide watch freak. For those of you that are new to this podcast, LIV is a direct-to-consumer microbrand with a focus on handcrafted Swiss watches, which we ship to fans all over the world. Feel free to visit us at LIVwatches.com for more information on the brand, the culture and the beautiful products we make.
In today's episode, we will be talking with the LIV Team Roundtable, and the subject is Coronavirus and how it's affecting the Swiss watch industry. So join us while we discuss this serious topic and I think it will be interesting. So looking forward.
Esti: Hi, everybody. We're sitting here at the Wristful Thinking podcast, Team LIV. We have Louie.
Louie: Hi, everybody. My name is Louie. I'm the design and social media coordinator here at LIV, amongst other things, amongst many other things.
Esti: You have a lot of hats.
Louie: Like everybody in this roundtable. Yeah. Yeah.
Chaz: My name is Chaz. I'm the co-founder. And happy to be here.
Michael: Hey, guys. Michael here. You don't know me much. I'm the guy behind the scenes who does all the marketing. Happy to be on the team. Been with them for years now.
Esti: And I'm Esti, co-founder with Chaz. Chaz's in charge of the product development. He didn't mention that as the co-founder. A very important role. And I just call myself the chief implementation officer. All right. Let's get started.
Michael: Fancy labels.
Esti: Yes, very fancy. OK. So we want to talk about Baselworld. It was canceled. What's going on? Chaz?
Chaz: Well, I think I want to talk about everything that's going on happening. So obviously, you guys know what's going on with this Coronavirus thing.
Esti: Terrible
Chaz: Yeah, it's absolutely horrible. And the crazy thing about is that nobody seems to know like a solution. I think the solution is--no one knows, like--
Esti: The uncertainty.
Chaz: Yeah, I think it's the uncertainty that's really getting people really, really weirded out and scared. And I think it's it's having, it's having an effect on a lot of people. I think in our industry alone, like we just know that Baselworld just got canceled. I've been a big proponent of closing Baselworld. But I was never--I never thought---that.
Esti: It's terrible for all those brands.
Chaz: Yeah, not under these circumstances.
Esti: I think especially the smaller guys that invest a lot of money.
Chaz: Oh, there's people that are gonna lose a lot of money off this.
Michael: This is a big deal.
Esti: Yeah.
Chaz: So not just a fair, but I think I'm not worried about the Rolexes and the Pateks of the world. But I am concerned about the smaller brands that are in our range that, you know, Swiss Swiss brands that are, let's say, in our price range or style. I don't know. Boutique small brands.
Esti: We don't have any competition.
Chaz: Well, there is a lot of nice cool brands out there. And I think it's really important for the industry, for us to exist. And so it's important that we make sure that these brands are healthy. It's important that the watch lovers out there in the world know that there's alternatives.
Esti: Yeah.
Chaz: Then and I don't think we're the only alternative out there. I think it's important that there's lots, lots of alternatives. And, you know, it creates a whole separate ecosystem within the watch industry where people are looking for smaller, more boutique brands that provide not just something unique, not just a unique watch, but they offer a, you know, a unique experience. And I think that's what the new watch lovers want. They want an experience.
Esti: They want a destination. It's like there's a set. There's now a whole marketplace.  
Chaz: Yeah.
Esti: Brands. Which is better for everybody.
Chaz: Yeah, absolutely. I think it's important for if one person existing and in one in one niche I think it's a problem. I think I think what makes it what makes the niche interesting is if there's choices.
Michael: And variety.
Chaz: Yeah.
Esti: Yeah, I remember there was a restaurant down in South Beach.
Chaz: South Beach, Miami.
Esti: And it was in an area they weren't really any other restaurants. And so there were only two restaurants in that area.
Chaz: Nobody went.
Esti: [laughs][laughs][laughs][laughs][laughs]. But anyway, I just don't want this to be only about Corona. Wanna talk a little bit about what's going on?
Esti: We want to be positive. Yeah.
Chaz: So here at LIV, we're obviously quite busy. Things are going quite well. The brand is getting stronger every day. A lot of it is thanks to you guys, the fans, that not just put your hard-earned money towards buying one of our products, but also like engaging. You're giving us real estate on your wrist. And for that, we're forever grateful and we hope you guys are safe and some things that are going on right now. Like, for example, we have the T.J. that just launched. I think that's almost sold out. Definitely the Divers is running really low, really low, really low. So that's been a big hit. So, you know, if you haven't grabbed one of those...
Esti: The TJ Divers.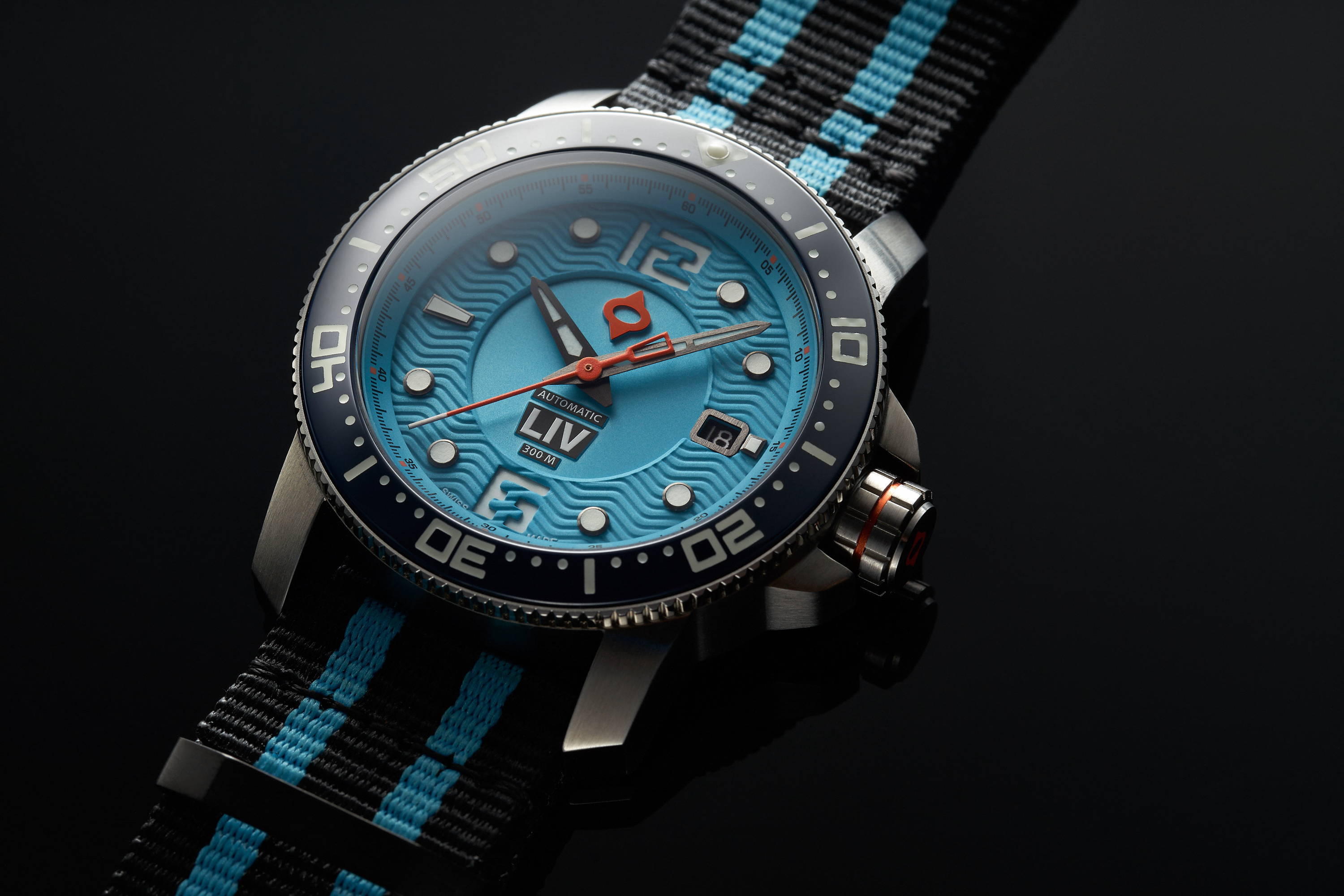 The Diver in T.J. Eisenhart's signature blue color (with NATO strap)
Chaz: This is not a sales podcast, but just fair warning that those are going pretty, pretty fast.
Esti: Well, it's great value. It really is.
Chaz: Yeah. That watch and the color is great. It was just like that perfect combination where you had this color aqua and then we had this Divers--like the T.J. color.
Esti: I never even thought of that connection.
Chaz: Oh yeah. It's a strong connection. So the T.J. color came even before the Divers was ever designed. But then when we matched up the T.J. color with the with the Divers, it was just like a perfect fit. First of all it's the wave and it's like wave, turquoise.
Esti: It's like a surfer's watch. I never even thought of that.
Chaz: High quality surfers watch. I mean, I don't want to offend any surfer dudes out there. I'm just saying quality. They're all high-quality. And then we have this new launch that can't really talk about too much. But we have a new--
Esti: Next week.
Chaz: A new version of one of our current collections. That's super exciting. Those of you that are already owned, one of our watches got an email about it. I sent out an email to all LIV owners. Those are people that have at least one of our watches. They really got notified about that.
Esti: Has coronavirus hit Switzerland?
Chaz: So in southern Switzerland, which is borders Italy? Yeah. So there was some delays. Like some components come from southern Italy. Some assembly we do is in southern Italy, in southern sorry, southern Switzerland, which almost borders.
Esti: We went there, to the factory.
Chaz: Yeah. So what they've done is they've basically, they normally have like an Italian workforce. Well, some of them have Italian work workers coming in. And what they've done is sort of, I don't want to say replaced them.
Esti: Have they closed the borders, the governments?
Chaz: I think the Swiss and Italian borders are--
Esti: Because Milan is, like, closed down.
Chaz: Yeah, yeah. So I think the Swiss and Italian borders right now. I think there is some there are some check points on there. They're checking everybody who's coming in.
Esti: Thermometers.
Chaz: I don't know if they are sending thermometers like they are in China. But there's definitely there's some more checking going on. Indefinitely because northern Italy is really where this ends.
Esti: And Switzerland is not part of that Schengen zone, is it?
Chaz: Yeah, exactly. So so Switzerland is smart in that sense because they're not part of this open- border Schengen idea. And so therefore, you know, there is no free--.
Esti: They have more control, right?
Chaz: There's no free movement of people. There's an actual border.
Esti: So, yeah, you have to get checked. I remember when we went we drove from Milan to...what's the city? Stabio?
Chaz: That's where we do some of our assembly. But I've been in touch with all the people that we work with, all our partners. And thank God everybody on our end is safe.
Esti: Chaz's the product development guy. That's why I said that at the beginning.
Chaz: And a big shout out to everybody who's in Switzerland who helps us create these wonderful timepieces. They're amazing group of guys. And we're truly blessed on that point to have these--
Esti: Really nice people.
Chaz: Yeah, great partnerships. People that really support the brand. They believe in what we're doing, just like you guys who buy our watches so anyway, hope everybody is safe.
Esti: Stay safe. Yes. Yes.
Chaz: Mike, you want to end with something? Because you haven't said anything.
Michael: Yeah. I'm I thought, deep in thought and I don't want to spread my germs.
Esti: Yeah, we're sitting a bit too close to each other right now.
Michael: Wash your hands regularly. I mean it's good our watches are water-resistant.
Esti: Good point.
Michael: Don't be afraid to dip that in the bath.
Esti: That's a great plug. Yes.
Chaz: I mean, I wouldn't suggest you dump Purell all over it. That's not a bad idea to make sure the crown is completely closed.
Louie: Close that crown, wash your hands.
Esti: And by the way, your phones are full of germs. Right. So better to check your time on the watch.
Chaz: And it's not a bad time to get yourself a brand new strap, get a fresh strap, wash the watch. Make sure the leather strap doesn't get wet. And now you pick up one of our amazing LIV watches, get a bracelet. If you have a bracelet on your watch, you don't have to worry about anything, And you just dump the whole thing.
Louie: Stainless steel.
Chaz: Stainless steel, 316L. No, it will never rust.
Esti: In all seriousness, though, everyone stay safe and healthy.
Chaz: That's really the most important thing.
Esti: Our thoughts and prayers are with everybody who's been affected, any families, and, you know?
Chaz: That's really, really the most important thing. Everybody should stay safe. I know they're going to find a solution. There's six million people in the world. It's affecting everybody.
Esti: Six million?
Chaz: Sorry, six billion.
Louie: Well, surely this will pass soon. Things will be a lot more positive soon.
Chaz: Thanks for joining us.
Esti: Thank you, guys.
Louie: Thank you, guys.
Michael: Bye bye.
Chaz: And that's a wrap for this episode of Wristful Thinking. Thank you so much for listening. Don't forget to follow us at LIVwatches.com And all the social networks on our journey where we make quality, unique Swiss timepieces for fans all over the world. Bye for now.